Ever heard about surgery? Of course, yes! Everyone is having one, right? Especially the celebs, be it boobs, Botox, lip surgery or liposuction. It is kind of becoming a new trend, in the Hollywood as well as in Bollywood. You might have seen some really big changes in the face of some actor or actress overnight, either in their body figure or their face, and might have read about many news reports where some have admitted of using silicon and some have made several excuses or came up with many stories.
Today, let's look at some of the actors who had lip injection.
Lisa Rinna and her lip
Image: Google
Lisa Deanna Rinna is an American actress and television host and is best known for her role in the NBC daytime soap opera Days Of Our Lives as Bille Reed, on television drama Melrose Place as Taylor McBride and as the host of Soapnet's talk show Soap Talk. She admitted to have put silicon in her lips in her early 20's with her best friend and termed it as "stupid thing to do" in one of her interviews. She even tried to remove it as much as possible because at the end it turned "gross".
Farrah Abraham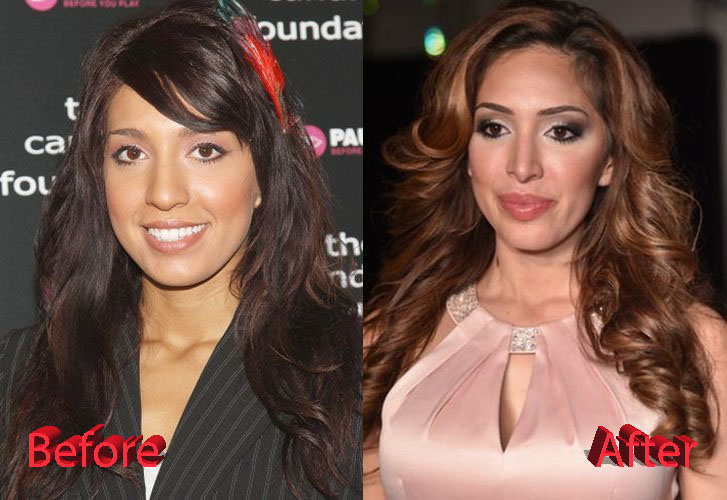 Image: Google
Farrah Lynn Abraham is an American reality television personality, and received attention after being cast in the reality television series 16 and Pregnant in 2009. She has had a nose job, cheek fillers, breast and chin implants and lip injections. Although, her experience with lip injections was not a pleasant one as she told everyone, on the show The Doctors that "I am just super happy that I'm alive".
Sarah Harding
Image: Google
Sarah Harding is an English singer-songwriter, dancer, model and actress. She too had an unpleasant experience with lip fillers and now is "really thankful that they have gone back down".
Kylie Jenner
Image: Google
Kylie Jenner have been pretty famous because of the reality television series Keeping Up With The Kardarshians since age 9, her eponymous brand of cosmetics, and her large social media presence. She admitted of having a lip surgery as first of all it was clearly visible, her lips cannot double overnight and also she made it clear with the media that she didn't wanted to talk about it but she admitted to have had temporary lip fillers.
Jessica Simpson
Image: Google
The singer of the famous song I Wanna Love You, Jessica Simpson is also in the list of having a lip job. She got lip injections in 2005 when she was still in her 20's but she is really thankful that they didn't last much long because they were looking fake to her because whoever injected her, putted in a bit too much, which gave her trout pout.
Jennifer Hudson
Image: Google
The finalist on the third season of American Idol, Jennifer Hudson, had admitted to the Oprah that she got her lip injected because of a role in the movie Dreamgirls, that there was a dent on the left side of her lip which was affecting the lighting. She never wanted to have it but she hasn't even changed her lips.
Britney Spears
Image: Google
Britney Spears, whose songs Oops!…I Did It Again and Baby One More Time broke the international sales record making her famous in all around the world is also in the list of having the lip experiment. With the help of her doctor cum plastic surgeon, she has had lip injections, and much of "fun stuff" which helps her skin glowing and looking refreshed.