Tattoos are something which is ever trending; these are not only for fashion purpose but some significance also. Today people make tattoos of things which are important in their lives. And Bollywood actors are also not behind in these things, so here are Bollywood's top 10 Unseen Tattoos-
#1 DIVINE CONNECTION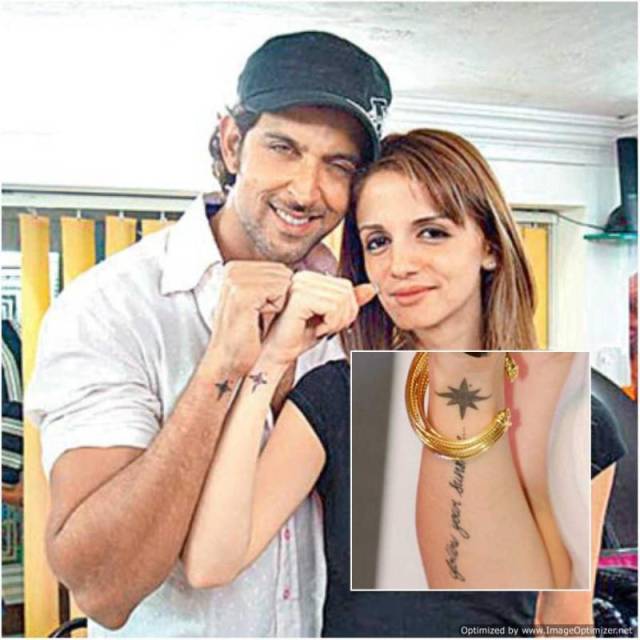 This is a distinct tattoo which is inked on the celebrity couple- Hrithik Roshan and his ex-wife Susanne. It shows a meaning of intersection of the divine with the mortal which means a meeting of the gods and generating a powerful message.
#2 Diwali's new cracker-Alia Bhat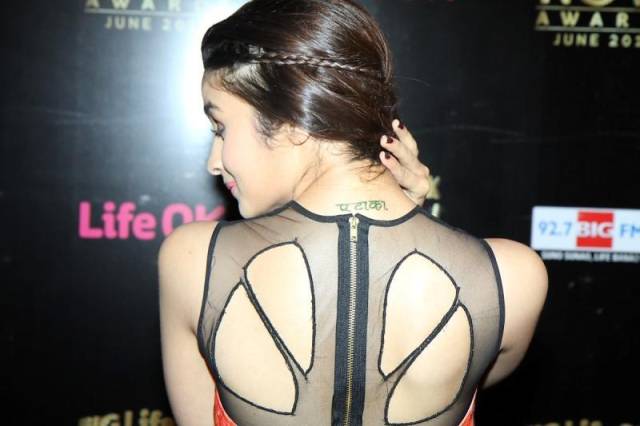 This tattoo is for all the people who look gorgeous and incredibly stunning in their looks. Like Alia Bhat, who is the youngest tattooed celeb has a tattoo of "PataKha" on the back of her neck
#3 BOLD-Sushmita Sen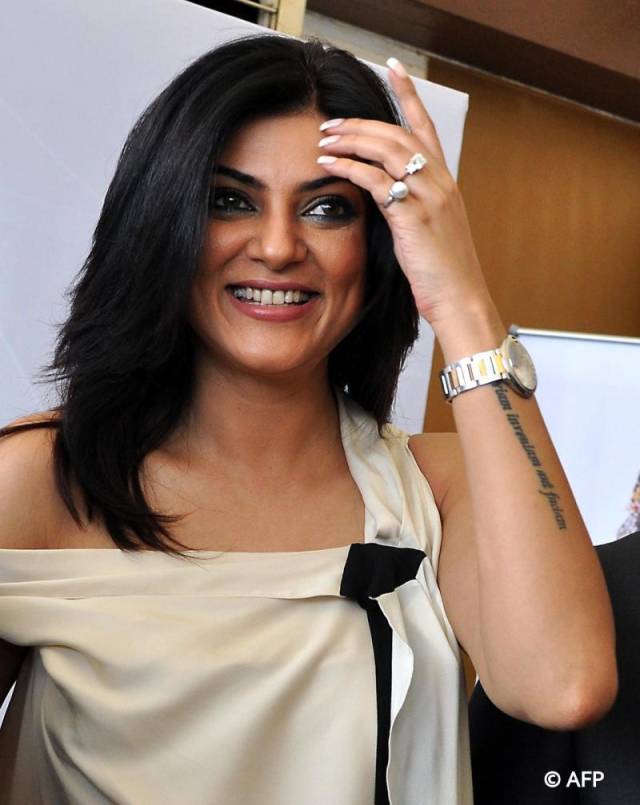 This is an inspirational symbol which means either I will find a way or I will make a new one for me. This bold tattoo is on the hand of Miss Universe Sushmita Sen giving us a beautiful message related to boldness.
#4 Daemon angel-Kangana Ranaut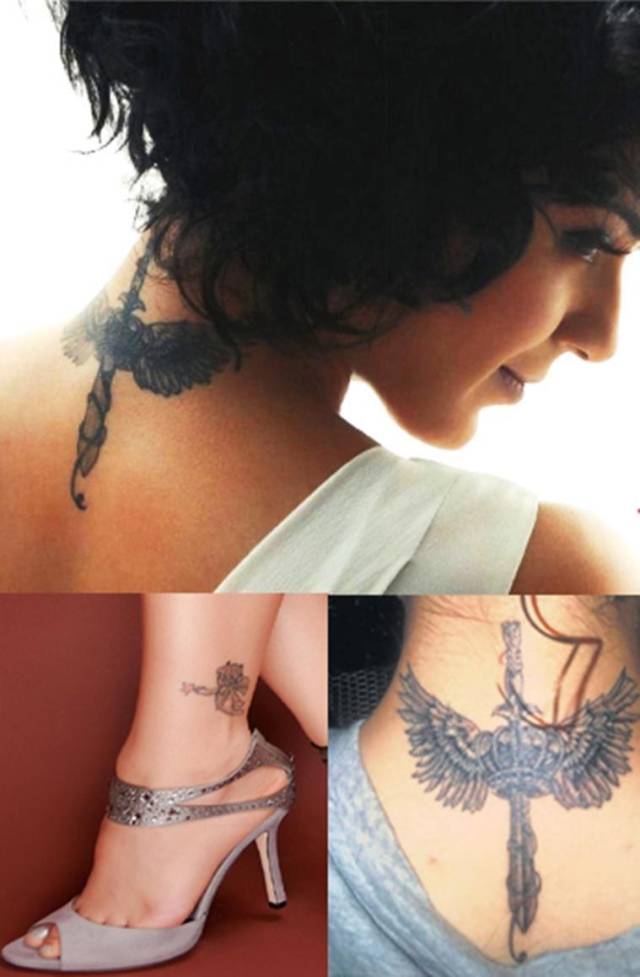 This tattoo is all about a warrior's sword which is engaged with an angel and protects her from all the sorrow. This extremely extravagant tattoo has been inked on the back of Bollywood queen Kangana.
#5 Awara-Ranbir Kapoor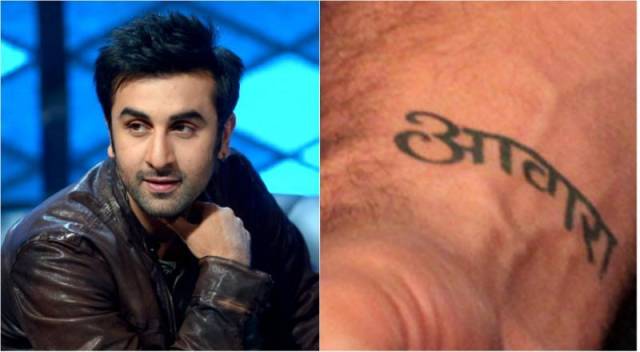 This is a great symbol which is being tattooed on the wrist of Ranbir Kapoor. This tattoo is dedicated to his grandfather for the marvelous movie award. Ranbir shows his carefree attitude with the help of this tattoo.
#6 Tattoo of initials-Deepika Padukone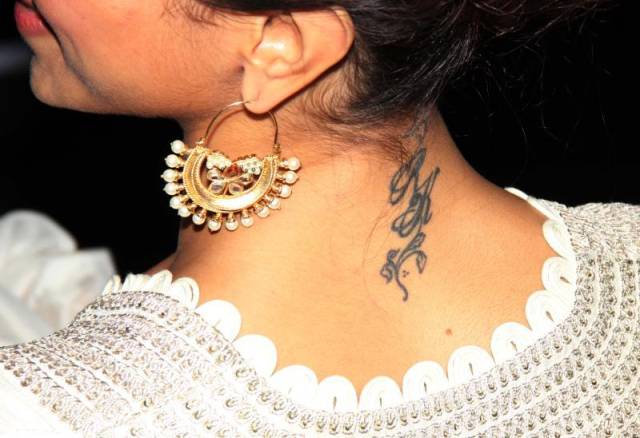 It gives us so proud feeling if we have our name tattooed on any of our body parts. Like Deepika has got a tattoo of her initials on her left ankle. It is an alternative to an anklet.
#7 Daddy's Lil girl-Priyanka Chopra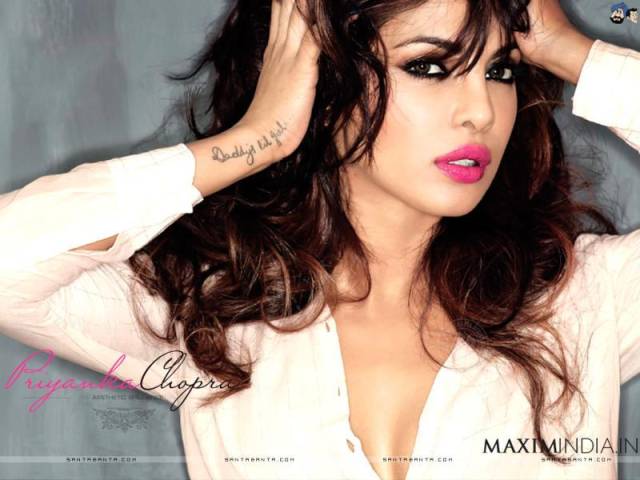 Daughters are precious gifts for their fathers. Likewise, Priyanka Chopra has always been a daddy's girl, her tattoo of daddy's Lil girl proves that she is adorable to be admired. She shares a strong bond with her dad.
#8 Love For Kareena-Saif Ali Khan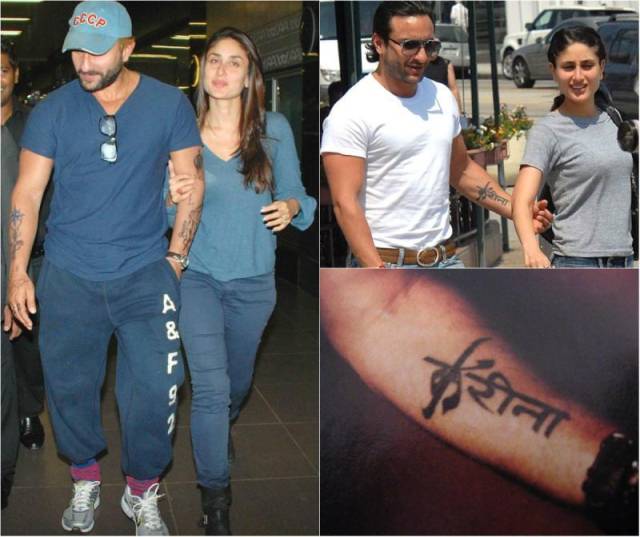 This is an exceptional gift for Bebo of Bollywood from her great husband. This shows the magic and sparks which keep this God blessed couple always together. This is the sign of true love between Saif and Kareena.
#9 Maa- Arjun Kapoor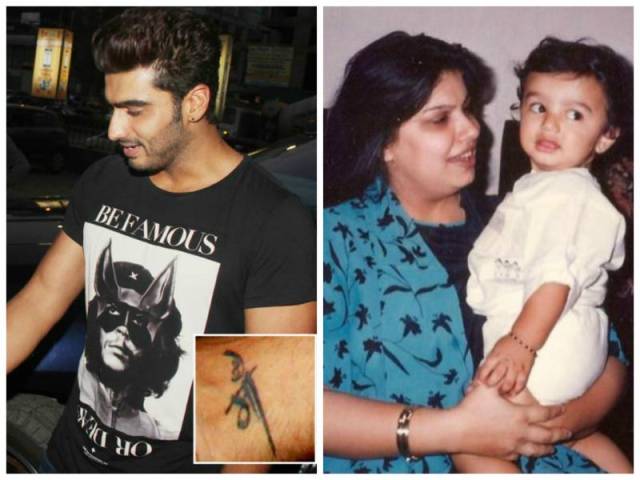 Maa is the powerful word you can ever discover. Arjun Kapoor has shown his eternal love towards his mother by having a tattoo of Maa with number 8 that shows eternity.
#10 Aarav –Akshay Kumar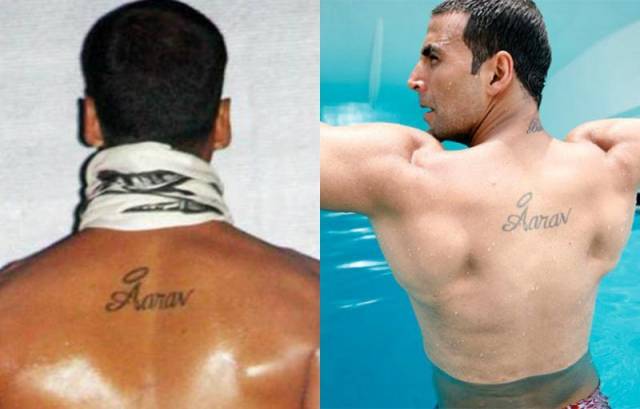 Aarav is the son of Akshay Kumar, who is the stunt guru of Bollywood. Akshay has inked his son's name on his back to show how much he loves his son. This represents an excellent bonding of father and son.